Free shipping in Europe for orders over 90€ 📦

Kit Pastel
Discover the SneakArts Pro Paint collection designed for Customizing Sneakers.
---
 Eco-Friendly Paint
 Every tools you need

High strength and elasticity
Made in France
---
Our Premium Kit offers everything you need to start customizing your Shoes and Apparels. .
Our Paint is made in France, water-based, and does not contain any toxic solvent, or acrylic. Professional quality with hight resistance and elasticity on leather, textile and other surfaces.
What you will find in the Kit :
- 5 Pastel Paints
- 1 Varnish to protect your shoes (24h after)
- 5 Flat Brushes 
- 1 Precision brush
- 1 Precision Knife
- 1 Masking tape
- 1 Palette to mix your Coulers
- 1 Booklet with some Example and Tips
- Some cool Stickers by SneakArts 
- Clean your shoes and remove your laces if needed
- Prepare your shoes using dissolvent / acetone to remove the manufacturer varnish.
- Shake the Paint before using it, to properly mix the pigments.
- Take a glass of water and your brushes, with a towel.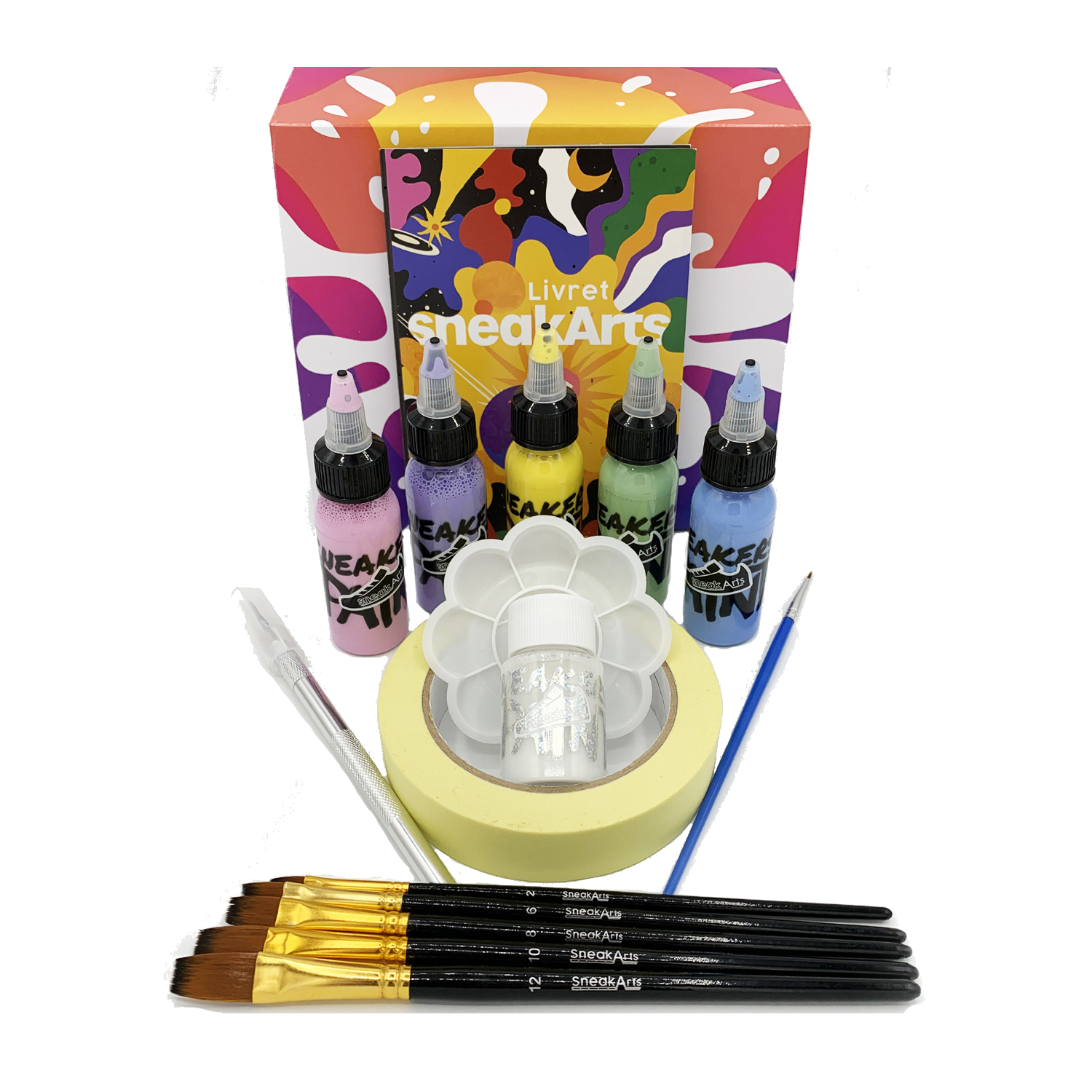 - Always apply thin layers to avoid any overload of paint.
- Let the coat dries for 10-15min and don't heat the paint if you use a hair-dry
- Clean your brushes regularly when the paint sticks.
- Apply the Varnish 24h after you are done with your Custom.
Want to learn more ? 
We created a FAQ page, to give you all the information you need to start. Easily create whatever you want on your shoes, jacket, bag or accessories.
With SneakArts, you won't miss your Customization !